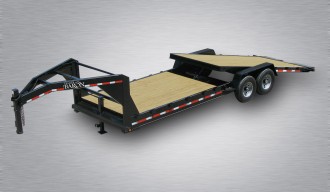 Trailer Baron offers Gooseneck Equipment Tilt trailers in General Duty and Professional Grade!
General Duty (added features): Fixed front deck with 14′ tilt section, heavy duty frame (see spec sheet) with 24″ cross member spacing, rubber mounted sealed beam light boxes with conventional wiring with gel filled connectors.
Professional Grade (in addition to General Duty features): Heavy duty frame with 16″ cross member spacing, rub rails on the stake pockets, LED rubber mounted sealed beam lighting in enclosed boxes with sealed modular wiring harness.
There is a treated wood flooring shortage. The following prices are subject to a 4% lumber surcharge.